Three new Linux tablets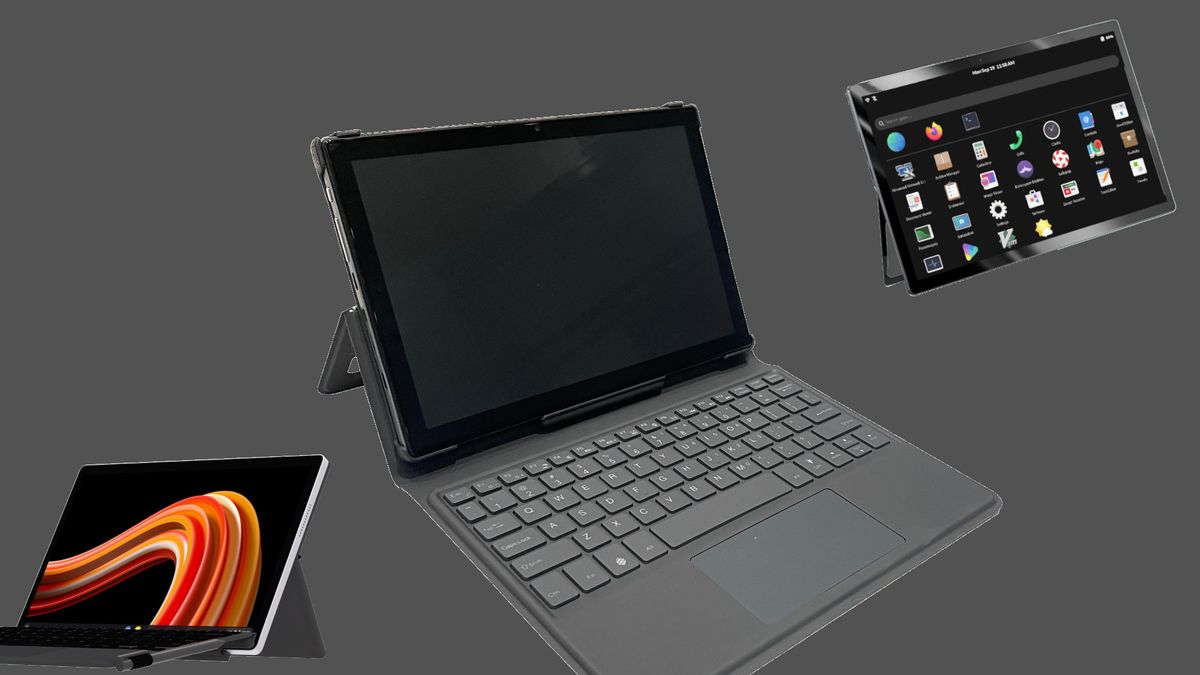 In their December update, Pine64 announced the PineTab2, which is the successor to their PineTab from 2018. As a major change, the PineTab2 upgrades the slow A53-based A64 SoC with an A55-based Rockchip RK3566, the same chip that was used for the Quartz64, and that helped to mainline this chip and base board.
This new SoC should provide more speed and better power management, and according to some Android benchmarks, its performance should be comparable to that of a Snapdragon 450 chipset. Although this is a far cry from the RK3399 chipset in some of PINE64's "pro" line (PinePhone/PineBook Pro), it is still faster than the PineTab's A64, and comes with a far better GPU (Mali G52) thanks to being much more recent (2020 vs. 2015).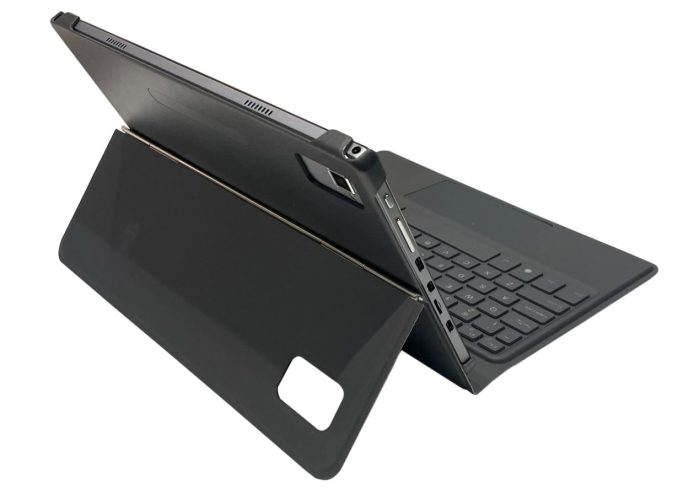 A summary of the known PineTab2 specifications is the following:
SoC: Rockchip RK3566 (released in 2020)
CPU: 4x ARM Cortex-A55 @ 1.8GHz with 1TOPS NPU
GPU: Mali-G52 (OpenGL ES 1.1/2.0/3.2, OpenCL 2.0, Vulkan 1.1, 4K/1080p video decoding)
Memory: 4/64GB and 8/128GB variants, microSD card slot
Display: 10.1" IPS LCD (resolution unknown) +  micro-HDMI output
USB: 3.0 Type-C, 2.0 Type-C
Audio: 3.5mm jack
Camera: 5MP (?) + 2MP
PCIe connector on internal mainboard (no SSD space tho)
Battery: 6000mAh (unconfirmed)
Included detachable keyboard cover with touchpad
Easy-opening metal case for repairability and hackability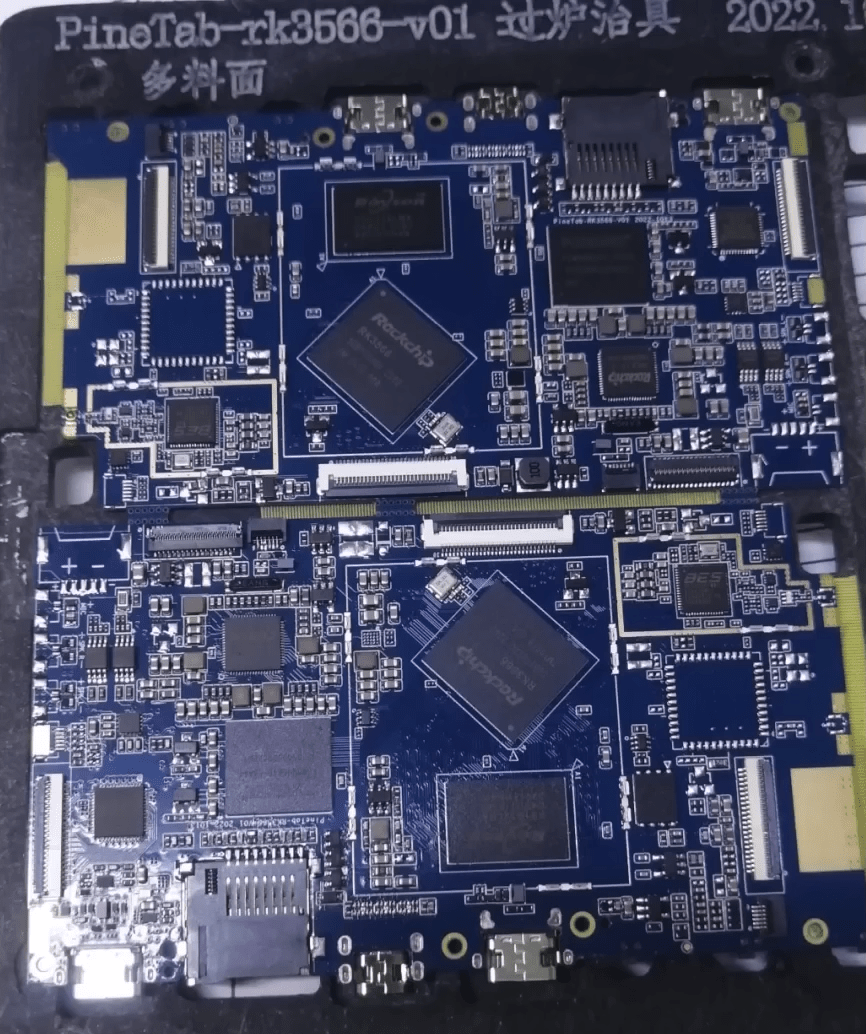 All in all, the PineTab2 looks very promising if the (currently unknown) price remains reasonable. Specifications are preliminary, and might change in the final product, but the first developer prototypes should be released in early 2023. More information can be found in Pine64's December Update below.
Although the most well-known, the PineTab2 is not the only new Linux tablet released in these months. Another portable device that was released in November is the Intel-based Juno Tablet by Juno Computers, a London-based Linux hardware company which assembles their hardware in the UK.
The Juno Tablet comes with a relatively conventional Celeron N5100 processor, which lets it run mainline Linux effortlessly.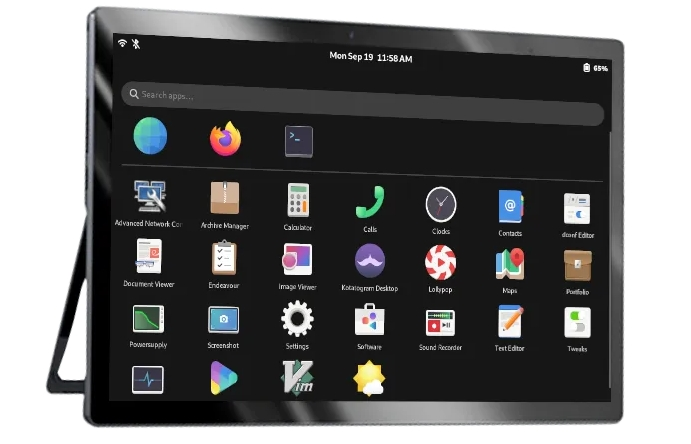 SoC: Intel Celeron N5100
CPU: 4x Jasper Lake x64 cores @ 1.1-2.8GHz, 6W TDP
GPU: Intel UHD Graphics (Jasper Lake 24 EU, 350 MHz – 800 MHz)
Memory: 8GB LPDDR4 + 256GB / 512GB / 1TB (replaceable?) SSD
Display: 10.1" FHD IPS 1920×1200@60Hz (MIPI-DSI) + DP 4K@60 via USB-C + mini-HDMI 4K@60
Wireless: Dual-band Wi-Fi + Bluetooth 4.2 (Intel AC 9460/9560 Jefferson Peak 2.4 and 5GHz)
Dimensions: 249 x 167 x 11 mm, 670 grams weight
USB: 1x Type-C 3.1 with charging + DisplayPort video out, 1x USB3.0
1x Micro SD (TF)
Audio: 3.5mm headphone jack, built-in mic, speakers (stereo output 2x1W),  Intel ES8336 sound card
Power: USB-C (min. 36W) or through DC barrel charger (36W – 12V 3A)
Cameras: 5MP + 2MP
Battery: 3200 mAh 7.6V (so double cells)
Software: Manjaro Plasma Mobile, Mobian Phosh (mainline with hybernation suppoer), optionally also Windows 11
Plastic chassis with included legstand
Assembled in the UK (according to site footer)
The JunoTablet is priced at $407, plus import and shipping taxes. It will be a bit more powerful than the PineTab2, and come with a stabler (if not quite boring) kernel, but is also more expensive.
One last, honorable mention goes to the Fydetab Duo by (also London-based) Fyde Innovations, a Linux tablet which bas been in crowdfunding since July and which uses a degoogled, ChromiumOS-based fydeOS ("openFyde") distribution and aims at productivity and smooth integration of Android and Linux apps.
With modern specs, premium build and pricing (starting at €620), the FydeTab Duo reminds a bit of the JingPad, although using a more conventional and easily maintainable software stack.
The FydeTab is one of the most elegant Linux tablets ever released, and the mix of ChromeOS and Linux features could also be - with a bit of luck - a game-changer.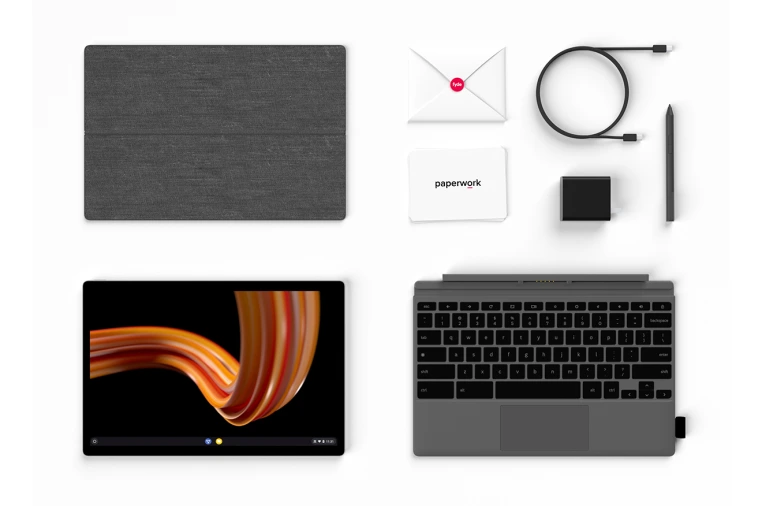 But all things considered, these three new Linux tablets follow different approaches and targets, none of these are wrong. The PineTab2 is an affordable device for ARM Linux hackers, the JunoTab offers an effortless Linux mobile experience for an average price, and the FydeTab is meant as a premium-ish Linux device that still manages to remain within a reasonable price range.