Linux Smartphone
The best Linux phones you can buy right now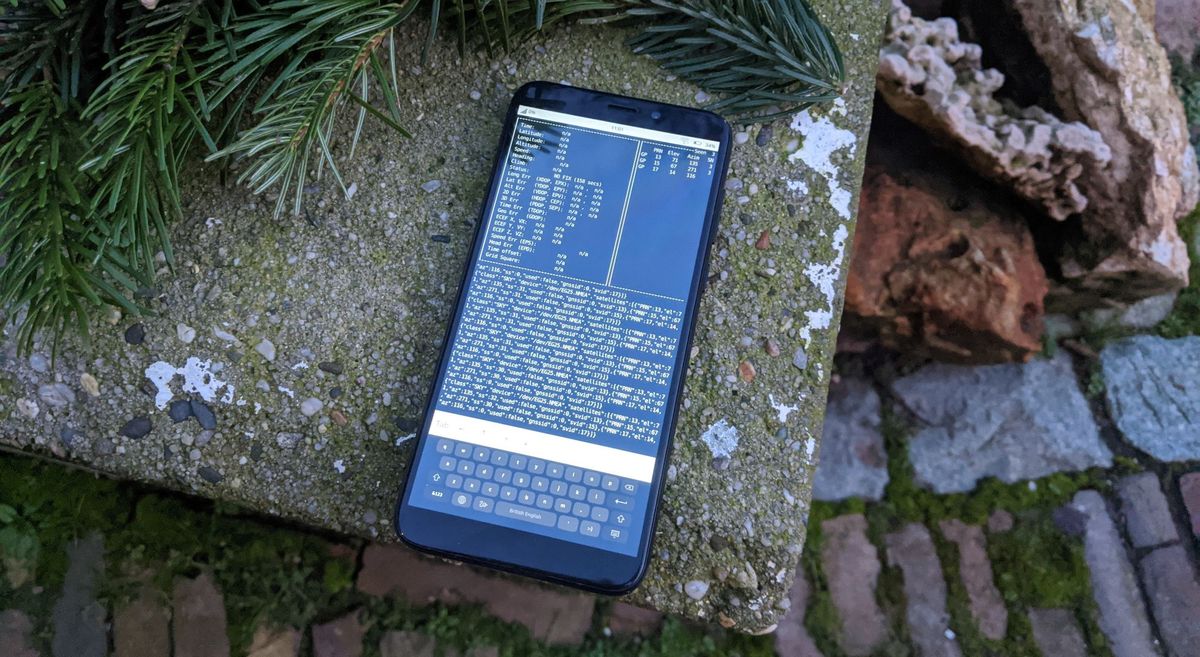 ⚠️  Hi Hacker News! The devices linked in this article are not yet suitable for daily use. If you are not familiar with terminals, kernel panics, disappointing battery life, or a lack of mobile-friendly applications in general, do not take one of these devices as anything like your "daily driver" phone. These are all still in a very early phase compared to other mobile ecosystems, their target users are Linux developers, and they will probably remain for a long while. Thank you. ⚠️
As many will know, the main difference between commercial phones and Linux-native alternatives is in how the latter is more of a "pocket computer" that can be used without firmware limitations. Coupled with often very open, if often modular, hardware, this category of devices kind of takes on the PDAs which we missed since the smartphone era. Having proper desktop-ready apps and advanced hardware in your pocket brings not only somewhat better freedom but also improved possibilities. This, naturally, if you can accept the still limited usability of most mobile Linux software, which is far from the ease of use and stability of commercial models.
Even parameters for the choice of a Linux phone are very different from those you would find on one of those Christmas smartphone buyer's guides. For example, both mainline kernel support and wide community should be an absolute priority in your choices, since they determine how good the device could become in the future, and whether it will truly last a decade, or be dismissed with a half-baked Linux kernel sometime in the middle.
But with new Linux phones populating the market every month, which one should you consider? This somewhat long post will guide you towards what are in our opinion the best picks out of this growing market. None of these is bad, despite the numerical ranking suggesting otherwise. Bad choices have been more simply excluded.
As a note, none of the links in this article are referrals. As a blog that covered mobile Linux projects in the last three years, this is our honest - and often critical - opinion on the devices. If you want to support TuxPhones content, please consider using LiberaPay for this purpose.
A minimal, not-so-scientific glossary for better understanding:
Mainline kernel: the official kernel tree, from Linus. Other (so-called downstream) kernels, which are found on the vast majority of Android devices, were forked from this tree at some time in the past, highly modified for the Android ecosystem, and probably never updated since.
Convergence: capability of turning into a desktop-like device, and running a full desktop and apps. In the case of Linux phones, software supports this by default, and this means simply having a hardware video output interface.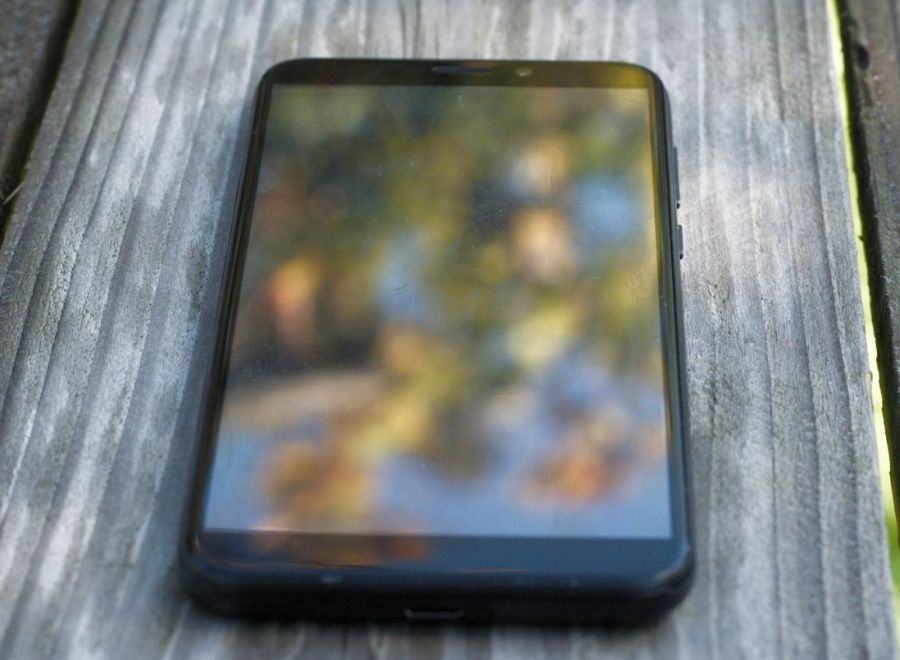 Convergent (HDMI output): yes
Mainline kernel: yes
Community: large
The reason for the first place of this phone is its no-frills, hacker-friendly nature: the PinePhone is simple, cheap, widely available, well-supported, and of course very linuxy. With a basic modular design, an enormous community, and a relatively low price tag, this is your best gateway to the mobile Linux ecosystem. Not fast by any means, but fun.
We can just recommend avoiding the BraveHeart batch and going for a later community edition (CE) or Beta device, as these solve some of the initial hardware issues, such as the lack of HDMI output from the USB-C port.
Pros:
Affordable fun
Stable Linux kernel support
Wide community
Power-efficient (but slow) SoC
Highly hackable
Generic, inoffensive, modern design
Official KDE Plasma Mobile support
Privacy kill switches
Cons:
Entry-level camera
Does not contribute much to software development
Slow SoC and memory (~Nexus 5 performance)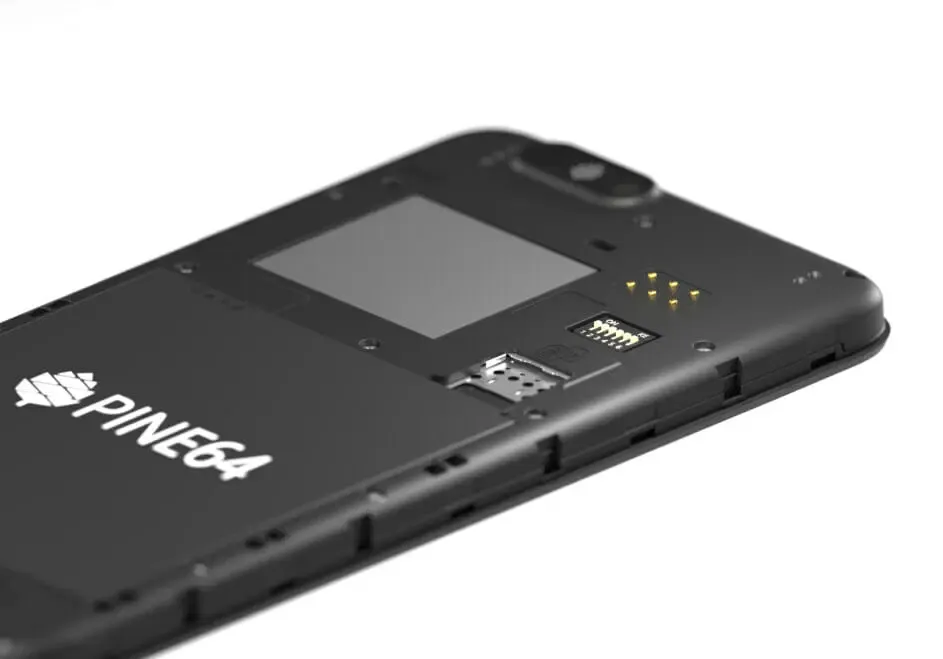 Convergent (HDMI output): yes
Mainline kernel: yes
Community: large
As much as we hate to have two models of the same manufacturer in a row in a want-to-be-unbiased post, it is quite undeniable that they both achieve the best value to the general user.
In particular, for what we know right now, the PinePhone Pro seems to punch above all alternatives in this list for value and performance, but since this device is currently available only as a developer prototype, just a long-term test (e.g. to assess the efficiency of heat dissipation and battery life) will be able to say if it is better than the standard PinePhone, or if the laptop SoC used in it tends to get limited by the thermal shielding.
The Rockchip RK3399, which received mainline Linux support and was formerly used in the PineBook Pro notebook, Quartz64, and other development boards, sports an octa-core array of ARM Cortex-A72 and Cortex-A53 units. With such power, the PinePhone Pro should deliver performance comparable to that of a Snapdragon 820, or a Google Pixel 1. How this will hold up with a similar battery size to that of the standard PinePhone, however, is still to be seen.
Only developer units are available right now, and whether the PinePhone Pro will climb to become the first Linux phone of this list is something that only time will tell.
Pros
Very powerful for Linux phone standards (~Pixel 1?)
Better IPS panel than the standard model
Full Linux kernel support
Fairly good camera
Same pros as the PinePhone, essentially
Cons
Available only in limited quantity, as a developer prototype, at this stage
Midrange price tag
Same design of PinePhone (but ~2 mm thicker)
Laptop-oriented SoC may cause overheating. We do not know yet.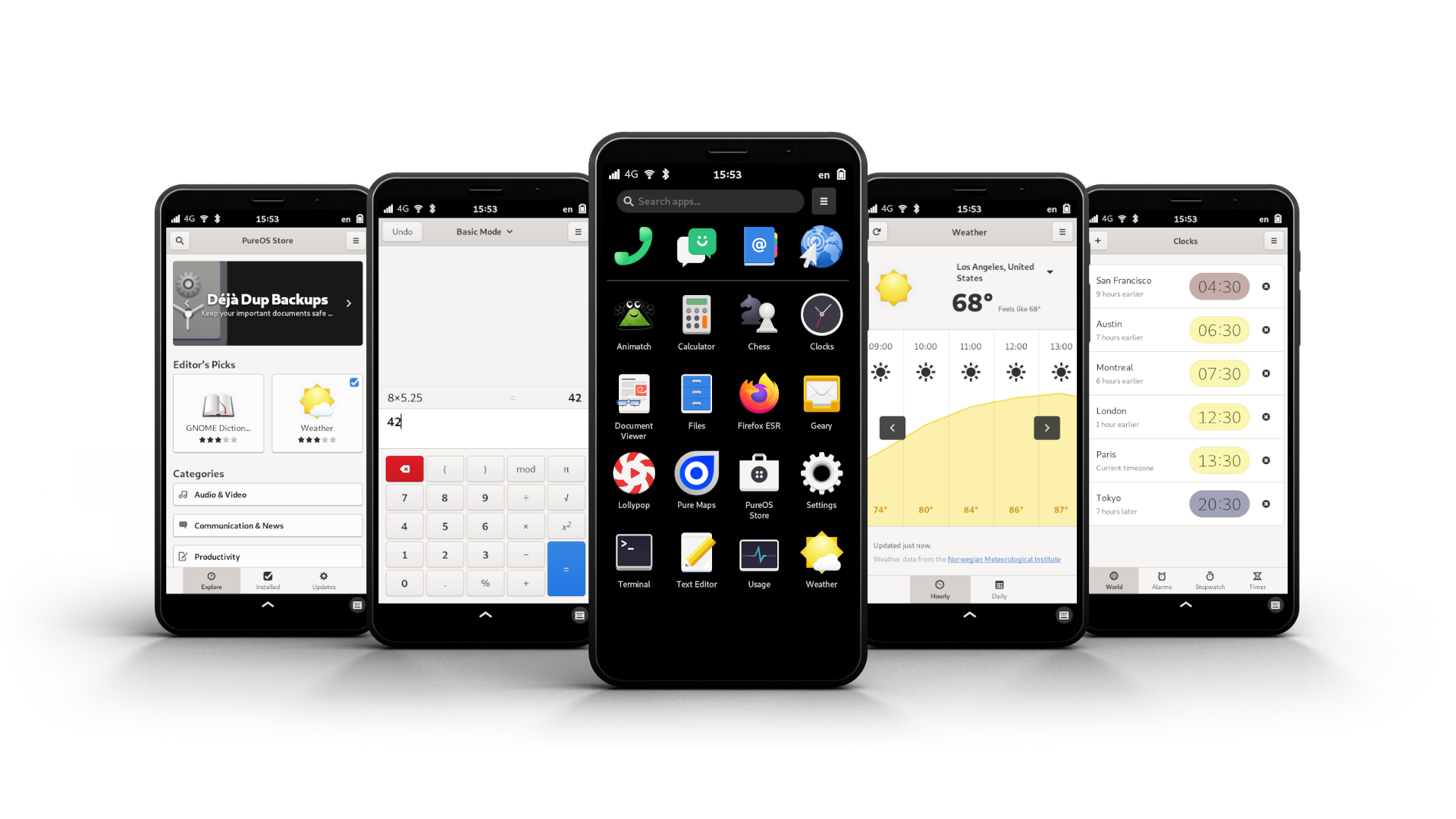 Convergent (HDMI output): yes
Mainline kernel: yes
Community: medium
Most people would consider the Librem 5 as the starting force of the modern mobile Linux momentum, with a valid point. The Librem 5 was the first announced example of a privacy-focused modern Linux mobile with a fully mainlined SoC, privacy kill switches, and a modular, transparent design. The mobile GNOME ecosystem known to this day is also partly thanks to considerable time and money investments by Purism, which reflected (e.g. in Phosh) on most other devices on this list, and the Librem 5 is probably as close to a fully trusted smartphone as we can get today. In fact, the modular mainboard allows to replace the modem through a standard m.2 slot, something never seen before on smartphones. This, however, comes at a very high price.
Just a couple of delivery and software hiccups prevent this from being the first Linux device to recommend to general consumers, but it is still a very interesting - and unarguably premium - phone, one you can fully trust. But in case you get one, make sure to choose one "batch" starting from Evergreen, since earlier ones (A/B/C/D) are mostly prototypes.
Pros:
Transparent, modular hardware design
Among the main funders of mobile GNOME projects
Strong privacy focus, easily accessible privacy kill-switches
Good camera
Premium feel
Cons:
Very expensive
Limited battery life
Modular design makes it considerably thicker than alternatives
Officially only GNOME-supported
Somewhat slow mobile broadband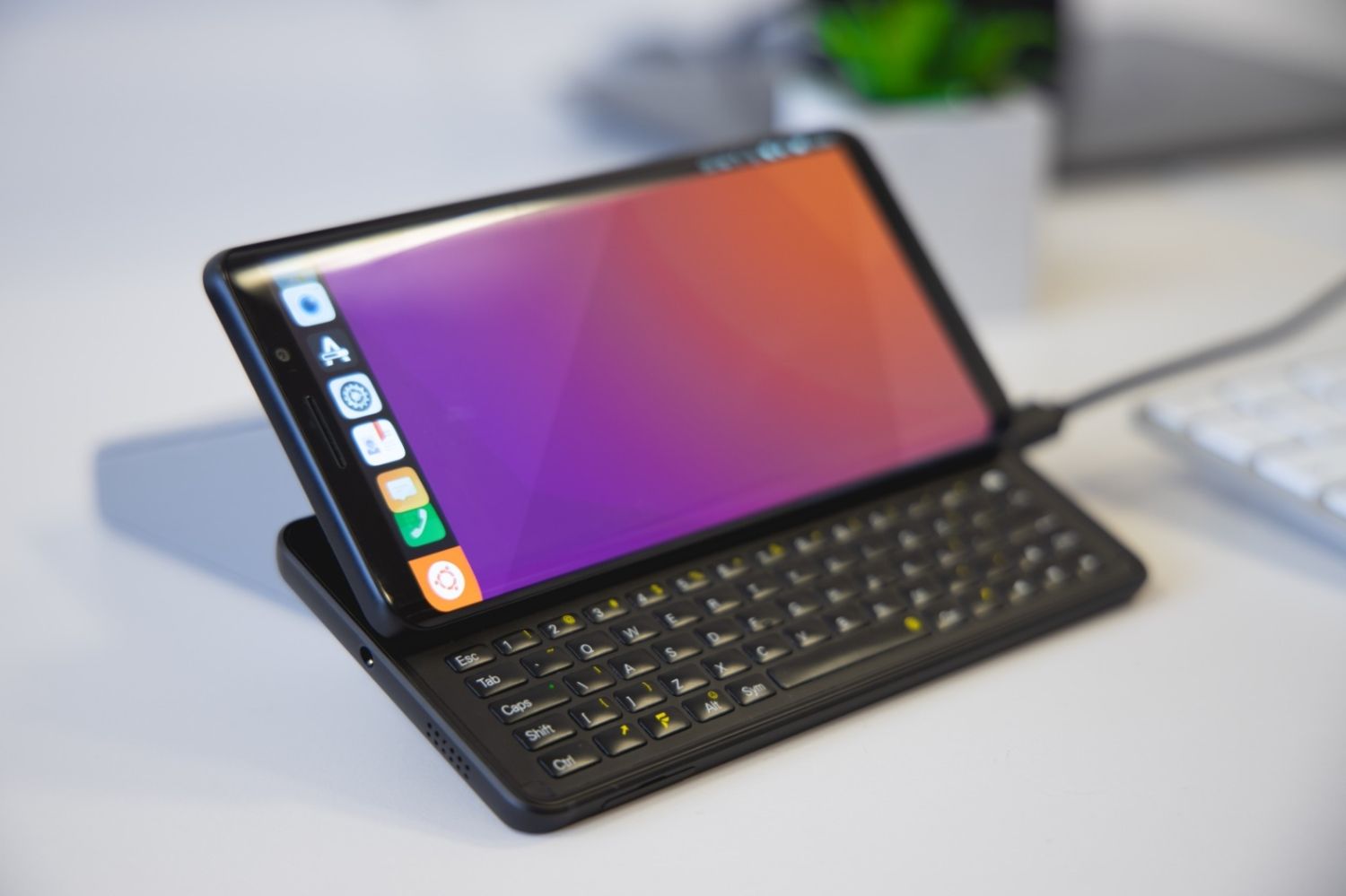 #4 — F(x)tec Pro1-X
Convergent (HDMI output): yes
Mainline kernel: work in progress
Community: small
The Pro1-X was announced by British independent manufacturer F(x)tec in 2020, as a keyboard-equipped alternative to the usual "slab" Android phablets. It offers premium build and specifications, comparable to a 2018/2019 Android flagship, a handy slide-out keyboard, and of course (some) Linux support.
Make sure to get the more recent Qualcomm Snapdragon 662 variant for better, longer-term mainline Linux support. The older (SD835) variant is also partly supported, but such devices are getting rarer as the chip was discontinued and F(x)tec was forced to find a replacement.
Pros
Built-in keyboard
Premium specifications
Ubuntu Touch-ready
Cons
Somewhat pricey
Not mainline
Small community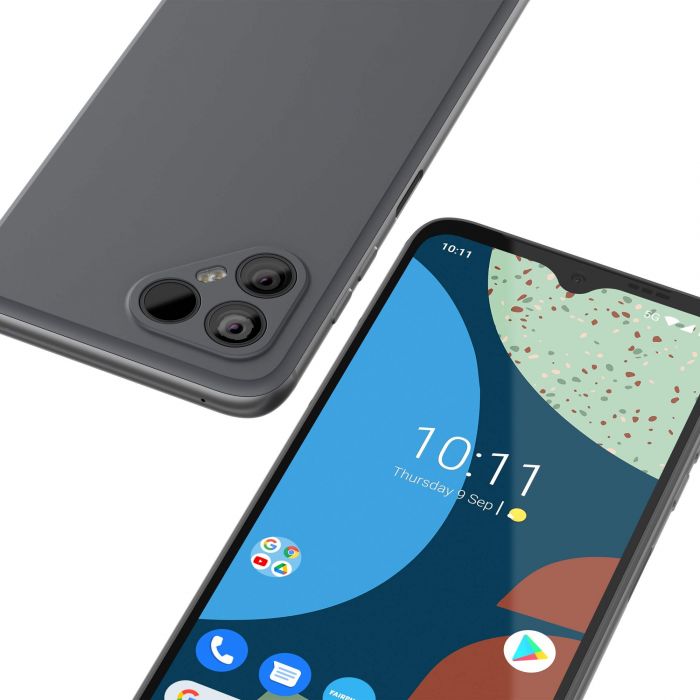 Convergence (video output): yes
Mainline kernel: work in progress
Mainline Community: small
The Fairphone 4 has been supported (unofficially) by postmarketOS since the day of its announcement. The developer reponsible being Luca Weiss, none other than a Fairphone employee , although he has only been working on it only in his spare time. This is on top of the mainline Linux kernel, meaning that the device is likely to get as supported as the native picks above very soon.
The SHIFT6mq is a Snapdragon 845 device, it is maintained by the SDM845 mainline community and is in the Community category in postmarketOS. SHIFT provided units to developers there as well as to the postmarketOS core team, additionally Alexander Martinz - SHIFT's top developer - has been contributing to postmarketOS and upstream Linux as well as actively collaborating with the developer community to improve support.
Pros
Mainline Linux support!
Transparent, sustainable material sourcing
Modular design
Considerably more powerful than other options
Better build quality and 5G (FP4)
Cons
Not sold as a Linux phone
Not all features are supported yet
Pricey
The same situation goes for the SHIFT 6mq, which is popular among the Linux community and has several developers (including our writer Caleb) working on bringing full, mainline Linux support to this modular German smartphone.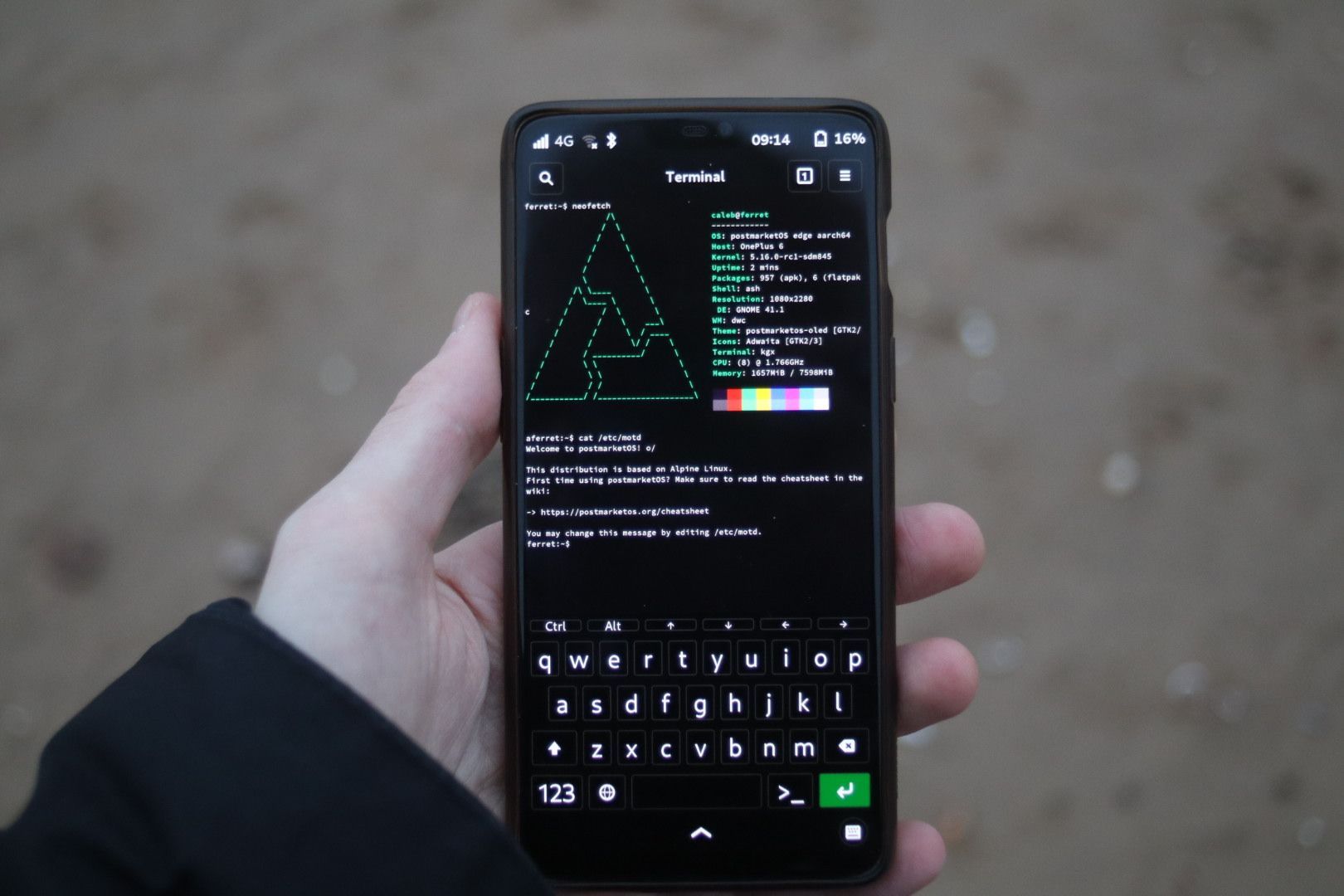 #6 — OnePlus 6/6T, Xiaomi/POCO F1
Convergent (HDMI output): no
Mainline kernel: yes
Community: medium
Some will argue that here we are cheating. Neither of these devices was meant by their manufacturers to run pure Linux, nor did Qualcomm enable support for anything but a small part of the SoC. However, the work of several developers has turned both devices into fully-fledged tuxphones, and the degree of usability in daily contexts is essentially unparalleled when it comes e.g. to web browsing or other complex tasks.
With a turbocharged, yet power-efficient 64-bit, octa-core ARM Cortex-A72 chipset, both POCO F1 and the OnePlus 6/6T are the best Linux-enabled Android phones with flagship specifications, since for around ~€150 on the used market, any of those will support a pure Linux kernel, blazingly fast performance, and plenty of memory even for the most resource-intensive desktops.
Just remember that some peripherals, such as the cameras and the modem, are still unstable or unsupported, and that the OnePlus 6 is slightly better supported (e.g. on the audio side) than its autumnal sibling, the 6T.
Pros
Extremely fast performance
Good Linux hardware support
Inexpensive on the used market (€100-€200)
Cons
As for all Qualcomm devices, it needs many firmware blobs
Some peripherals (camera, modem etc.) are still lacking or unstable
Still born as Android phones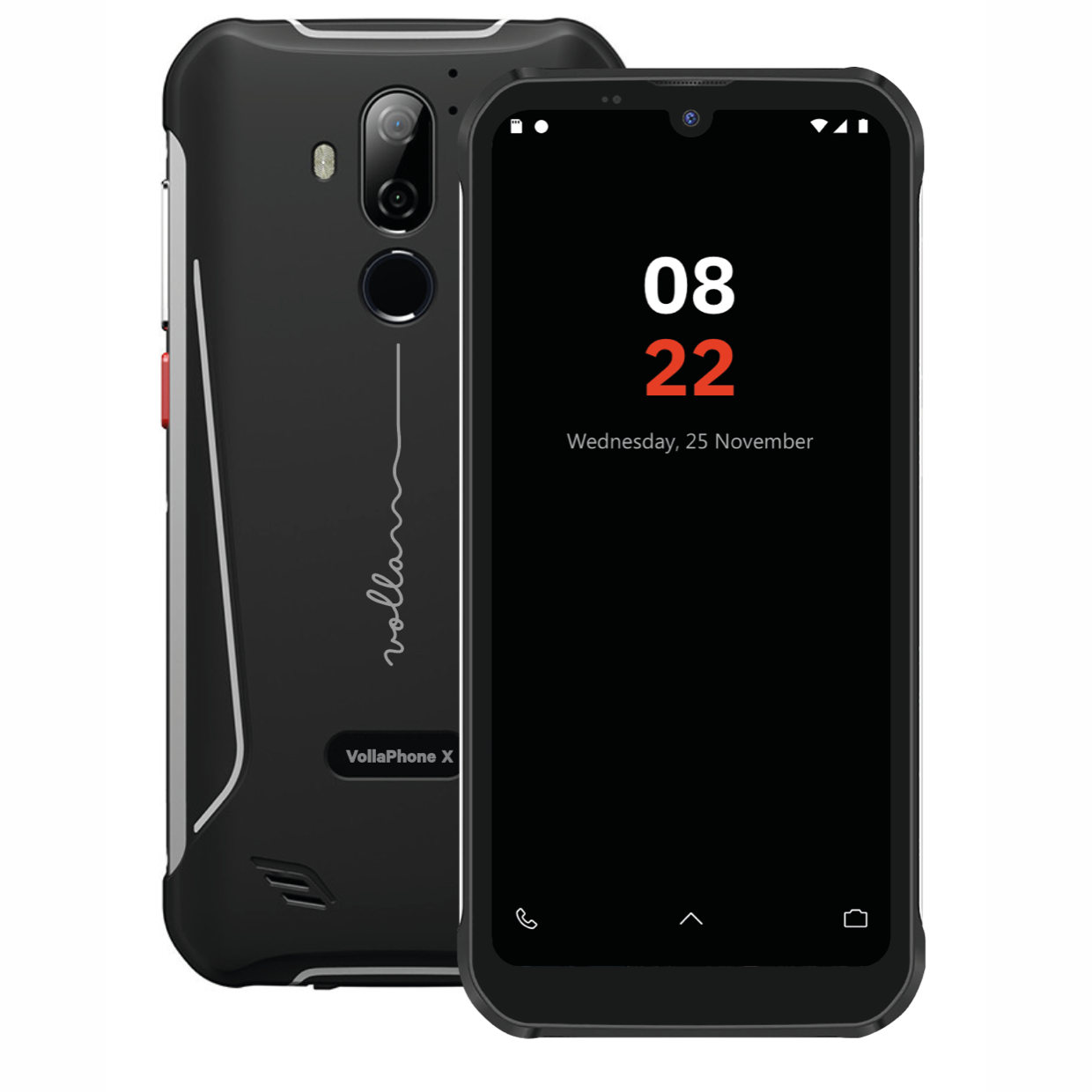 #7 — Volla Phone (X)
Convergent (HDMI output): no
Mainline kernel: no
Community: small
Since it was announced in 2020, the Volla Phone gained a relatively wide user niche. Not particularly thanks to its main aim of a distraction-free, privacy-oriented Android phone, but rather thanks to the UBPorts partnership, who gave official, top-notch support to this device from the start.
And although the chip may be the least remarkable part of the phone - a MediaTek Helio P23T with 8 Cortex-A53 cores, which has no mainline kernel support, this device may be good for those looking for a stable, daily usable Ubuntu Touch experience. The more recent (but same performance-wise) Volla Phone X offers a similar experience with longer-lasting battery life and a rugged chassis.
Pros
First-class Ubuntu Touch support
Modern looks
Assembled in Europe
Relatively fast performance
Modern looks
Cons
Will never get mainline Linux support
Small community
Essentially a Siemens GS290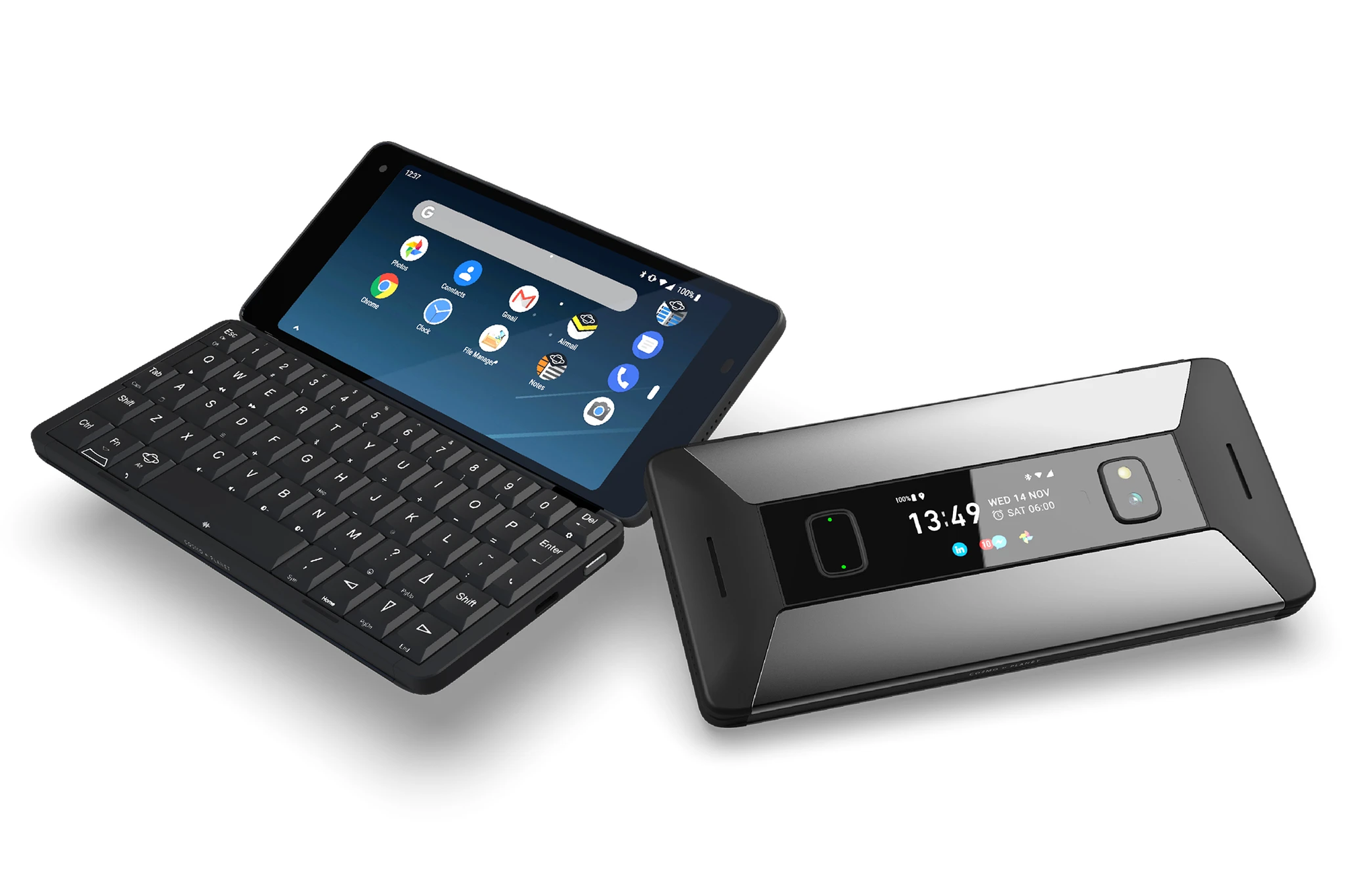 Convergent (HDMI output): yes
Mainline kernel: no
Community: small
Aesthetics is something personal, and what shapes or silhouettes bring us deep emotions is something that varies a lot from one to another. But for people who experienced the 90s and 2000s PDAs, the perspective of a modern Nokia Communicator or Psion successor is something highly tempting. In other words, the Cosmo Communicator looks stunning, and having a proper near-mechanical keyboard, two USB Type-C ports with video output, and a rounded back with secondary color display surely helps the impression of device.
But, in terms of Linux support, the news is not as good, which is why this device did not get a higher place in spite of its solid hardware, and officially supporting Linux. Unlike its direct competitor, the Pro-1, the choice of however high-end MediaTek chipsets for the Cosmo Communicator is not the most promising for Linux support. So, although the SoC used supports 5G, boasts high-end performance through ARM Cortex-A73 cores, and the device does indeed have a Debian-based Linux distribution, the lack of proper mainline support might be an issue for Linux users in the long run.
Pros:
Fast performance
Top-notch build quality, and near-mechanical keyboard design
5G ready
Cons:
Use Mediatek SoC (though a high-end one)
No mainline Linux kernel
Tiny community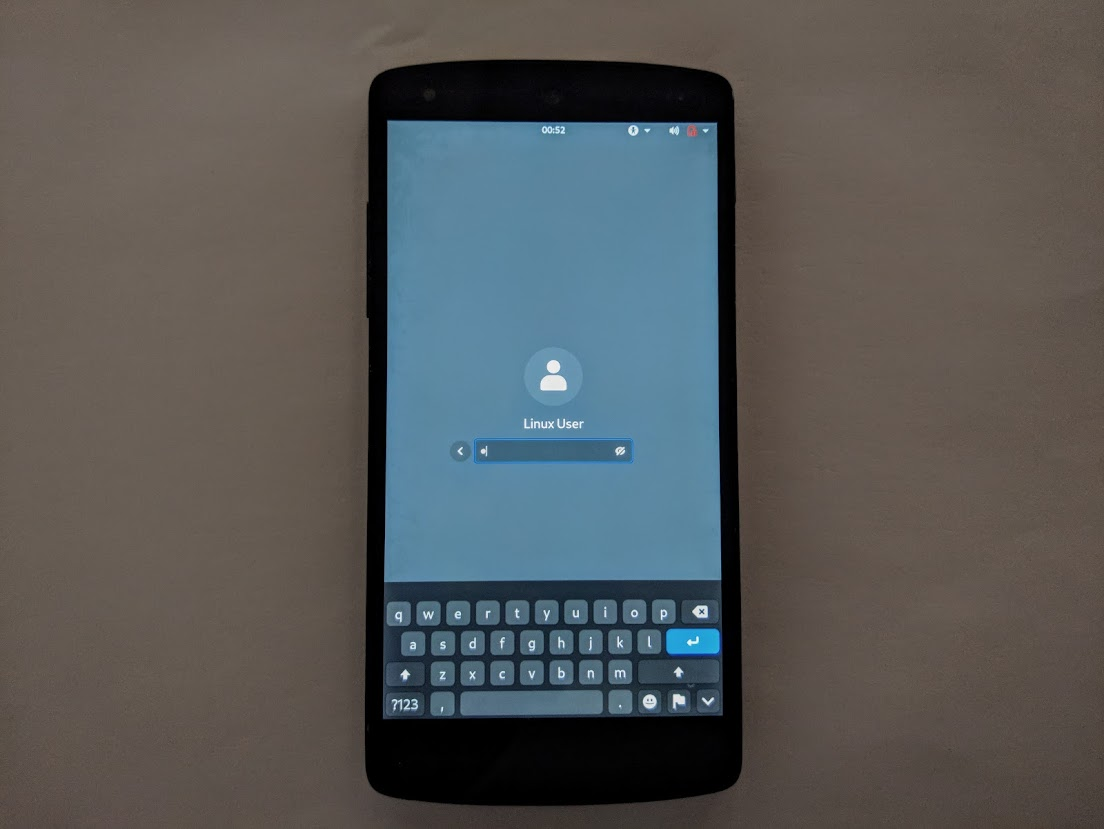 #9 — The old phone in your drawer
We will never get tired of saying this: if you have an older Android device sitting in your drawer, chances are that it can run postmarketOS or some other Linux to some extent. Granted, the level of support varies a lot between devices, and you must be ready to overwrite the Android ROM completely for this purpose, but there are currently already over 80 phones running the mainline kernel, many more than they used to be months ago.
Pros
You may already own one
(Almost) zero-cost playground to try the ecosystem
Cons
Relatively low chances of mainline kernel
Even lower chances of a stable port
#∞ — What to avoid
With the market expanding to enthusiasts, we start to see some vaguely defined and buzzword-heavy projects, which mostly take existing refurbished Android phones with some previously existing Linux port, flash it on them, and sell them at a premium under another brand. There is no need to mention those directly, but they are appearing, and do not really make much sense. Flashing an existing Linux distro on a stock of old phones neither benefits the Linux community, nor the customers, and getting the refurbished phone directly may be much cheaper, and as hard as opening eBay or your regional equivalent.
In conclusion, there is a lot of choice of mobile Linux devices right now, although their level of maturity does not often allow them to be used as a reliable replacement of commercial solutions. Think of them as beta devices for a new ecosystem, or playgrounds for the future mobile Linux environments.
As boring as this kind of listicles can be to read (or to write), we hope that it helped you better clarify the criteria for your choice, and would like to remind that these are still enthusiast-aimed devices, and you should not rely on any of them for your primary/work usage just yet. Or worse, gift one to your not-so-Linux-savvy partner. They might hate you for that.
---
You can follow TuxPhones on Twitter, Mastodon, or even Telegram to always get the latest news about Linux smartphones.
Cover picture: PinePhone "BraveHeart" edition (M. Braam, 2019 - source)