Update 27/06/2022: The PocketReform has been officially announced! More information can be found at this page.
In the last year, we have seen an unexpected revival of handheld computers (or PDAs) with hardware keyboard, all of which based on Linux: the PinePhone with its keyboard case, the GPD series of mini-laptops and several others which we covered here last month. For those wondering, the main difference between these trendy miniaturized computers and "standard" Linux phones can often be just the lack of a cellular modem. In general, the board designs appear to be quite similar between PDAs and phones, and for most applications, a Linux PDA can be cheaper and just as useful as a fully fledged smartphone.
Back in 2019, the MNT Reform project promised a new laptop concept: being entirely self-made, radical (and rather punk-sexy) in style and functions, this Linux laptop focused on repairability, modularity (even for input devices!) and total openness of the platform firmware. The device was designed by Lukas Hartmann in Berlin, all of which based on the ARMv8, i.MX8MQ processor. Furthermore, the Reform sported a tiny OLED display above the keyboard for status monitoring, an open-source trackball, and replaceable stylus-shaped 18650 LiFePo4 batteries, all with entirely replicable PCB and hardware design.
Yet the PocketReform, a recently announced Linux PDA by MNT Research, appears at least as innovative as its predecessor: firstly because it is designed and assembled in Germany, although with some boards sourced from China, and secondly for being a partially EU-funded project rooted in the Berlin University of the Arts.
The first difference from other PDAs is the everyday customer oriented, yet radically open-source nature of this product. While not many technical details are known yet, the PocketReform will focus on a flexible, easily repairable hardware and structure, probably taken at least in part from the full-size Reform laptop. In the current prototype, the two wooden and plexiglass panels for the keyboard and display modules are connected by a hinge, with one circuit board, and likely one replaceable LiFePO4 battery.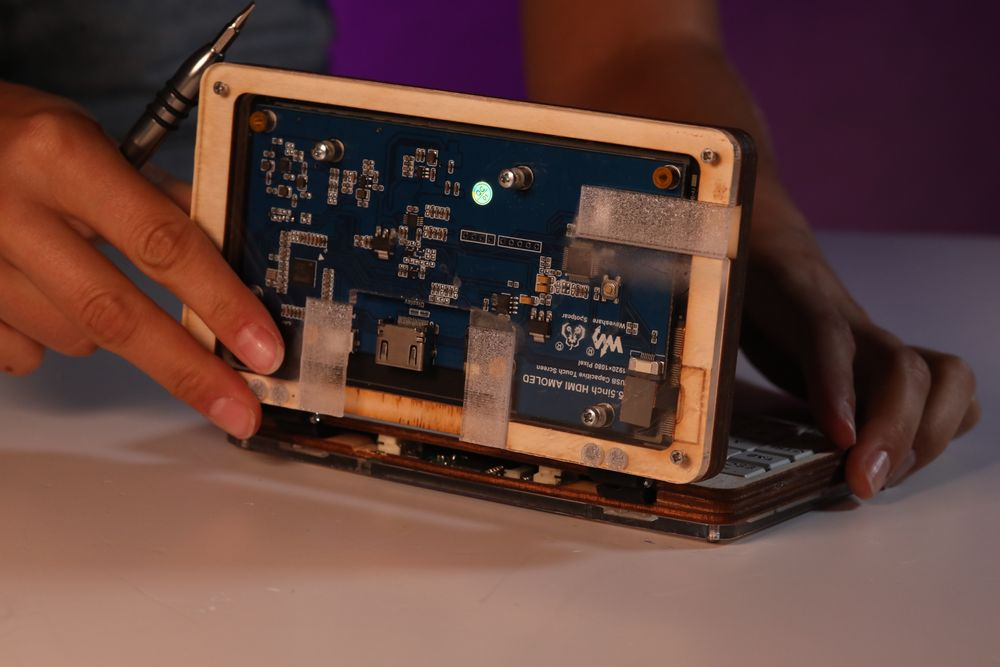 Moreover,  according to its makers, crucial for the PocketReform is its modularity and durability, in the perspective of a circular economy model. Early renderings showed a miniature mechanical keyboard not unlike that of the Penkesu, alongside a tiny trackball and OLED display, which are not yet seen on the current prototype. In fact, the trackball could make for a satisfying BlackBerry-like feel and easy navigation even in traditional, not mobile-optimized Linux environments.
The PocketReform will likely accommodate the same SoM (System-on-Module) of its larger sibling, with on-board slots to connect wireless cards and other modules.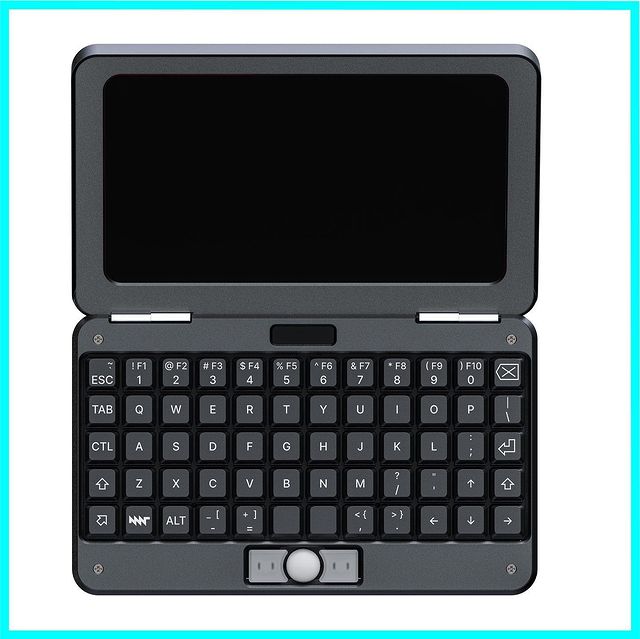 On the technical side, specifications are aligned with the Reform laptop: The PocketReform uses the same high-end NXP i.MX8 SoC as the MNT Reform, which is also that used by Purism's famous Librem 5 smartphone.
Its modular design supports a variety of base modules:
NXP i.MX8M Plus (4× ARM Cortex-A53 @ 1.8GHz, 4 or 8 GB DDR4, Vivante GC7000UL GPU, NPU)
NXP Layerscape LS1028A (2× ARM Cortex-A72, 8 or 16GB DDR4, Vivante GC7000UL GPU)
Raspberry Pi CM4 (via Adapter, 4× ARM Cortex-A72, 8GB DDR4, VideoCore GPU)
Pine SOQuartz RK3566 (via Adapter, 4× ARM Cortex-A55, 8GB DDR4, Mali G52 GPU)
FPGA AMD/Xilinx Kintex-7 (for industrial use, RISC-V SoC possible)
Furthermore, this modularity allows to recycle modules from the standard Reform laptop.
The PocketReform uses a 7" Full HD IPS panel, plus an additional 4K micro-HDMI output. It uses an RGB-backlit ortholinear keyboard with mechanical switches, plus an optional customizable trackball.
RAM is determined by the base module, and eMMC storage alongside an NVME m.2 SSD slot can be found on the board. Moreover, the PocketReform offers several wireless capabilities, with Wi-Fi 802.11ac and Bluetooth 5.0 in the base model, plus an optional WWAN slot for 5G and 4G modems.
At 20 × 12.6 × 4.5cm, the PocketReform is somewhere in between a handheld and a netbook, and its thickness is wholly justified by the replaceable 18650 Lithium batteries (8000mAh) and overall modularity of the board. These can be charged by one of the two USB-C ports, which supports Power Delivery (PD). A micro-HDMI 4K output and an industrial Ethernet port are also present in the casing.
Many colours and finishes were showcased in renderings, from a slightly 2000-ish light blue tint, to solid gray, to the amazing wood-and-glass blend of the current prototype, which we would like to see replicated in production. In the end, the case will be either in (cyber-punkish) purple or black anodized aluminium, or in recycled PLA.
The PocketReform supports a range of OS that goes, interestingly, beyond Linux to include OpenBSD and even Plan9 ports.s
In conclusion, this new project looks intriguing to say the least. With funding at least partly ensured, and inheriting expectations from the MNT Reform as a quality product, hopes for the PocketReform are high. You can find more information in the official introduction post below.
Photos from the official project page.