PINE64
Librem 5 vs. PinePhone: comparison of two Linux smartphones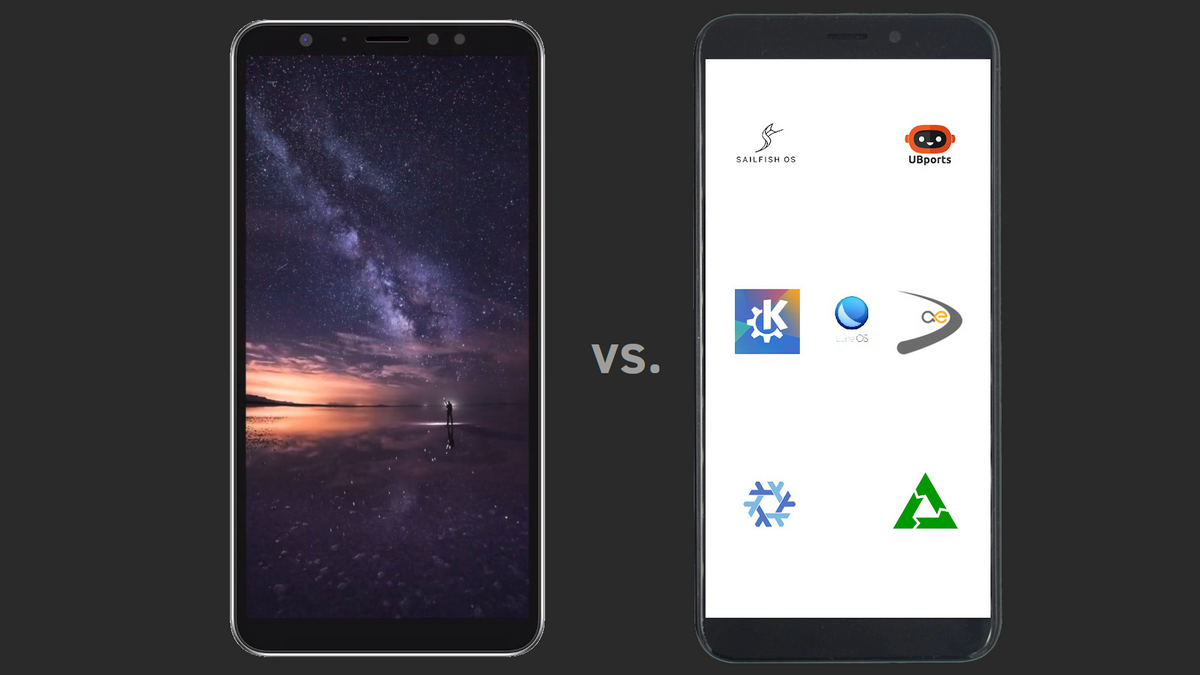 Shortly after Purism crowd-funded the Librem 5 $650 privacy-oriented Linux smartphone, Pine64 announced the PinePhone, a $150 entry level alternative with similar design, aim and specifications. So which one should you choose - and why is the Librem 5 much higher cost still worth the investment?
Technical specifications and performance
Technical specifications for these two devices happen to be very similar, as you can see below, with the Librem 5 offering slightly better performance and the PinePhone coming with a larger display.
| | | |
| --- | --- | --- |
| | Purism Librem 5 | PINE64 PinePhone |
| Chipset/SoC | NXP i.MX8M | AllWinner A64 |
| CPU | Quad core ARM Cortex-A53 @ 1.5GHz | Quad core ARM Cortex-A53 @ 1.2GHz |
| GPU | Vivante GC7000L | Mali-400 MP2 |
| Display | 5.7" 18:9 HD (1440x720) IPS LCD | 5.95" 18:9 HD (1440x720) IPS LCD |
| RAM | 3GB LPDDR3 | 2GB/3GB LPDDR3 |
| Storage | 32GB eMMC + SD card | 16GB-64GB eMMC + SD card |
| Modem | Replaceable 3G/4G LTE via m.2 slot | 3G/4G LTE modem |
| Other connectivity | Wi-Fi 802.11a/b/g/n dual band, A-GPS, Bluetooth 4.0 | Wi-Fi 802.11b/g/n single band, A-GPS, Bluetooth 4.0 |
| Camera | 13Mp main, 8Mp front | 5Mp main, 2Mp front |
| I/O | USB Type-C (3.0 host, charging, video out), audio jack | USB Type-C (2.0 host, charging, video out), audio jack |
| Sensors | Gyro, accel., compass, light, proximity | Gyro, accel., compass, light, proximity |
| Battery | 3500mAh | 3000mAh (Galaxy J7 form factor) with 3A quick charging |
| Privacy switches | LTE, WiFi+BT, cameras+mic, all sensors | LTE+GPS, WiFi+BT, cameras |
| Primary OS | PureOS + GNOME/Phosh | postmarketOS + Plasma Mobile |
| Price | $650 | $150 |
The Librem 5 offers much better cameras and longer battery life, whereas the PinePhone comes first in terms of price and quick charging support.
The Librem 5 GPU also offers better performance and mainline kernel drivers, though neither of the two devices is designed for intensive gaming.
Software support
This is probably the key difference between the Librem 5 and the PinePhone. Purism created its own "GNOME Mobile" shell from scratch, writing a lightweight Wayland Gtk desktop optimized for touch devices and adapting most GNOME apps to a mobile UX (e.g. by developing libhandy, which has made several upstream GNOME apps mobile-friendly). Essentially, Purism invested most of the Librem 5 earnings on creating a fully convergent Linux desktop (and contributing upstream to GNOME) in a somewhat Ubuntu Touch like fashion.
On the other hand, Pine64 opted for a community-based approach: they provide the base hardware and OS to users and developers, and the community develops the needed software to make it run. postmarketOS and (Ubports) Ubuntu Touch developers have already ported their OS to the PinePhone development kits, and KDE Plasma Mobile will be the primary desktop designed for this phone. About $10 for each device will be donated to open source projects.
In conclusion, the choice of the device is mostly up to your desktop preferences (Librem 5: GNOME, PinePhone: Plasma), which will however be both available on both devices. Investing in a Librem 5, however, means supporting the development of mobile Linux distributions, so the higher cost is not unjustified.
Privacy and "libre" hardware
Both devices are highly privacy-oriented, with kill switches for most (or all, in the case of the Librem 5) sensors and hardware. However, only the Librem 5 is certified to be fully free software when it comes to kernel, drivers and bootloader, and unlike the PinePhone is endorsed by the Free Software Foundation for a Linux experience that will be, with much effort, one of the rare ones to be entirely free from proprietary software.
Availability
Both devices will be realistically shipped before the end of 2019 (Q3 for the Librem 5, Q4 for the PinePhone), with support for worldwide LTE bands.
Conclusion
As you can see, both devices are perfectly reasonable choices for people with slightly different preferences and needs. If you need performance and a fully privacy-respecting, libre smartphone, the Purism Librem 5 is probably your best bet. However, if you just need a low-cost, entry-level Linux mobile device, and prefer Plasma to the GNOME ecosystem, the PinePhone will probably be more than satisfying.
You can pre-order the Librem 5 from puri.sm, and the PinePhone from the PINE64 website once it is released. In case you are still in doubt, feel free to join us at r/tuxphones, and we will be happy to help you choose one.